What's Up Email Marketers?
If you've landed on this page, you may know that GMass shut down its automated email warmup services in early 2023.
Why? Because Google said so.
The Google email warmup ban affected over 1,500,000 MILLION Gmass accounts – forcing email marketers everyone to ask the question:
Is automated cold email warmup dead?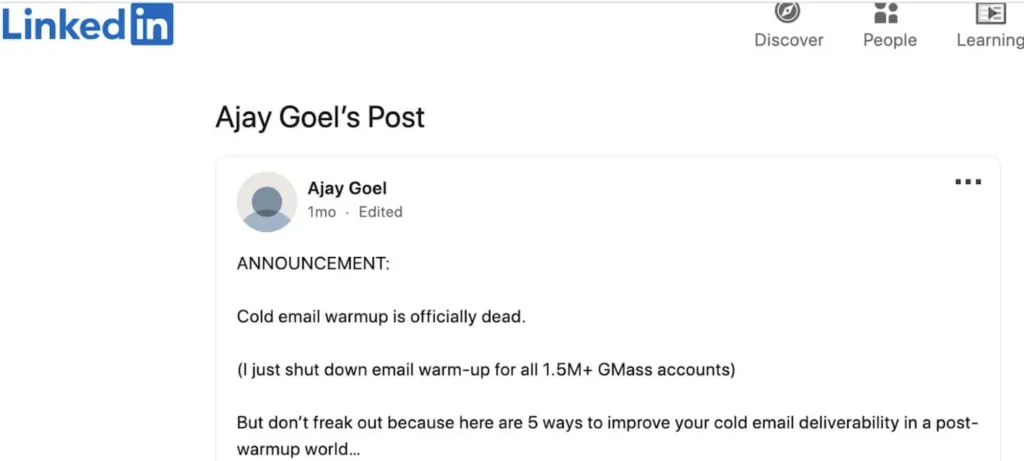 Despite GMass' CEO Ajay Goel's bold proclamation, the answer is NO … cold email warmup is certainly not dead. However, marketers everywhere have been searching for an effective GMass alternative for automated email warmup.
And that's what we are here to do today.
In this article, we'll look at:
What Is GMass?
Why Did Google Shut Down GMass' cold email warmup?; and
The best GMass alternatives for cold email warmup.
If you want to jump right to our recommendations, you can do so here.
What Is GMass?
GMass, one of the best known names in automated email marketing, is a powerful email outreach and automation tool that integrates with Gmail.
GMass offers time-saving features like email scheduling, personalized messaging, open tracking and email follow-ups that creates a simple and seamless way for email marketers to reach out to and nurture relationships.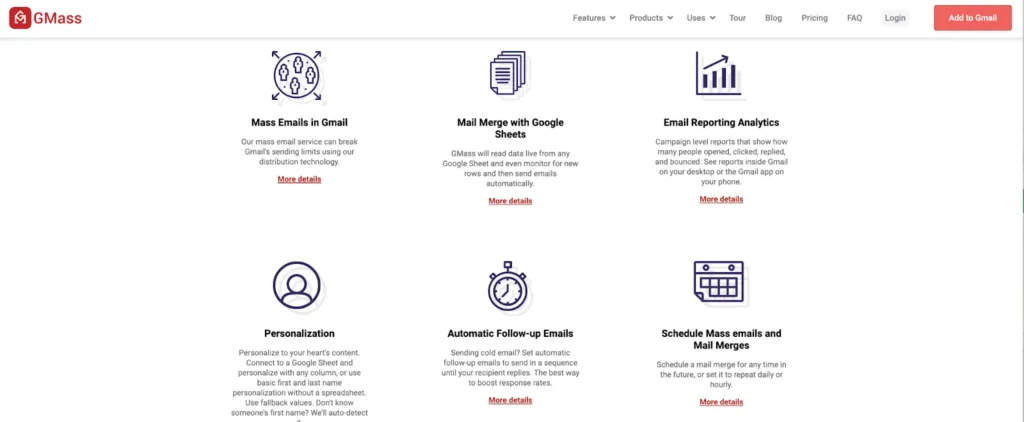 With over 200,000 users and a revenue of $1,400,000 in 2023, GMass has been widely adopted by individuals, small businesses, and digital marketers to send personalized and targeted emails to their subscribers or clients at scale.
Some of the well known features of GMass include:
Mass emailing allows users to send personalized mass emails to up to 10,000 recipients at once.
Automated follow-ups to be sent to recipients who did not open or respond to the initial email.
Campaign tracking and analytics, including open and click-through rates.
Email scheduling that allows users to schedule their emails to be sent at a later time or date.
Personalization by inserting customized fields, such as recipient names, into their email templates.
Integration with popular email service providers such as Gmail, G Suite, and Google Workspace, as well as with popular CRM and marketing tools such as Salesforce and HubSpot.
However, one of the most popular features of GMas – its API email warmup services – were shut down in February 2023 leaving email marketers with a HUGE hole in their email marketing strategy.
Why Did Gmass Shutdown Email Warmup Service?
GMass announced the shutdown of its email warmup campaign service in February 2023 due to changes in Google's policies that prohibit the use of their API for the purpose of email warmup.
Long story short, Google updated its Developer Policies in August 2021 to prohibit the use of its API for the sole purpose of email warmup, which includes sending a high volume of emails to establish a new email domain's reputation.
As a result, GMass had to discontinue its warmup campaign service as it was built on Google's API. You can see from Google's letter to GMass below, Google was prepared to revoke GMass's API if they did disable their email warming feature … and of course, GMass complied.
The end result was the discontinuation of email warming services for over 1,500,000 GMass accounts.
GMass made clear that they are committed to complying with Google's policies and ensuring the long-term sustainability of their service. While the warmup campaign service is no longer available, GMass still offers other email marketing features and services to its users.
What is An Email Warmup Tool?
The whole discussion above assumes that you know what an email warmup tool is. At Inboxy, we assume NOTHING … and want to make sure that you fully understand what an email warmup tool is.
An email warmup tool is a third party service that helps email marketers gradually increase their email sending volume to improve their email deliverability rates and avoid getting flagged as spam.
Basically, it helps you, the email marketer, bypass spam folders and land important email messages directly in the inbox.
When an email account sends too many emails too quickly, it can trigger spam filters and cause emails to be blocked or sent to the spam folder. Email warmup tools work by gradually increasing the email sending volume over a period of time, typically over several weeks or even months.
This practice allows the email sender to build up their reputation as a legitimate email sender, establish a good sender score, and increase the chances of their emails being delivered to the recipient's inbox.
Email warmup tools may also offer additional features such as email verification, which helps users clean their mailing lists of invalid email addresses and reduce bounce rates.
By using an email warmup tool, email marketers can improve their email deliverability rates and increase the chances of their emails being opened, read, and acted upon by their recipients.
The Best Gmass Alternative for Cold Email Warmup
So, now that we've established that GMass has stopped providing email warming services, the next logical question is: WHAT PLATFORM SHOULD I USE?
Our answer: It's Inboxy.
Inboxy is our clear cut best GMass alternative that offers email warmup and email verification services to help email marketers improve their email deliverability rates and bypass spam filters … all at a very affordable price.
Inboxy is different from GMass in that it uses their own internal headless browsers instead of Google's API to guarantee emails get through all spam checks and boosts your primary inbox placement.
Inboxy automatically raises your email sending reputation through their network of inboxes so your emails end up at the top of your prospect's email inbox. Inboxy clients see better open rates, response rates and booked meetings within 14 days of signing up for an Inboxy account.
Here are some of the features of Inboxy:
Email warmup: Inboxy.io's email warmup and IP warm up service gradually increases the user's email sending volume over a period of time to help build their email reputation and avoid getting flagged as spam. Users can select from different warmup plans based on their email sending needs.
Email verification: Inboxy.io's email verification service helps users clean their mailing lists of invalid email addresses and reduce bounce rates, which can improve their email deliverability rates.`
Reporting and analytics: Inboxy.io provides detailed analytics and reporting on email campaign performance, including open rates, click-through rates, and bounce rates.
Integration: Inboxy.io integrates with popular email service providers such as Gmail, Yahoo, and Outlook, as well as with popular email marketing tools such as Mailchimp and Sendinblue.
Affordable pricing: Starting at only $27/month Inboxy.io offers affordable pricing plans to suit users' needs, with no setup fees or hidden costs. You can click here to sign up now!
Bottom line: Inboxy is an effective and affordable email warming tool for marketers looking to improve their email deliverability rates and build their email reputation over time.
Other Gmass Alternatives
While we highly recommend Inboxy as our top GMass alternative, there are other quality email warmup providers that you can explore.
Here are a few of our favorite:
Conclusion
The Gmail ban GMass' email warmup was not targeting email warmup as a whole, but a certain type of automated email warming that deceived Google's spam filters.
This does not mean email warmup is bad … quite the contrary … it is an absolutely necessary strategy for any business looking to grow with email (which is all businesses in 2023!)
For only $47 a month, you can access Inboxy's email warming service that offers a 99%+ inbox placement. That means your emails are reaching their intended recipients … and you are making money for you and your clients.
Thanks for reading along … we hope you learned something today!